The Appearance of Human-Like Robots
All Custom Human Robots™ have human appearance – they look just like a normal person. Only after looking closely or talking to the robot, one can tell it isn't a real person. So, Custom Human Robots™ are exactly that: human-like robots.
The artificial skin of all Custom Human Robots™ is very similar to the human skin, with the major difference (or bonus) being the added durability and resistance of the artificial skin. Sure, all human-like robots have a specific strength, certain capabilities, as well as speed, according to the specifications agreed upon with each customer.
The Operating System Behind Our Human-Like Robots – Robot Operating System™ (ROS 2020™)
The CHR™ human-like robots operate independently, based on their Robot Operating System™ (ROS 2020™).
Each Custom Human Robot™ is a human-like robot with its own artificial intelligence (A.I.), programmed according to the specifications agreed upon with each customer. They operate independently, without the need of the customer's controls.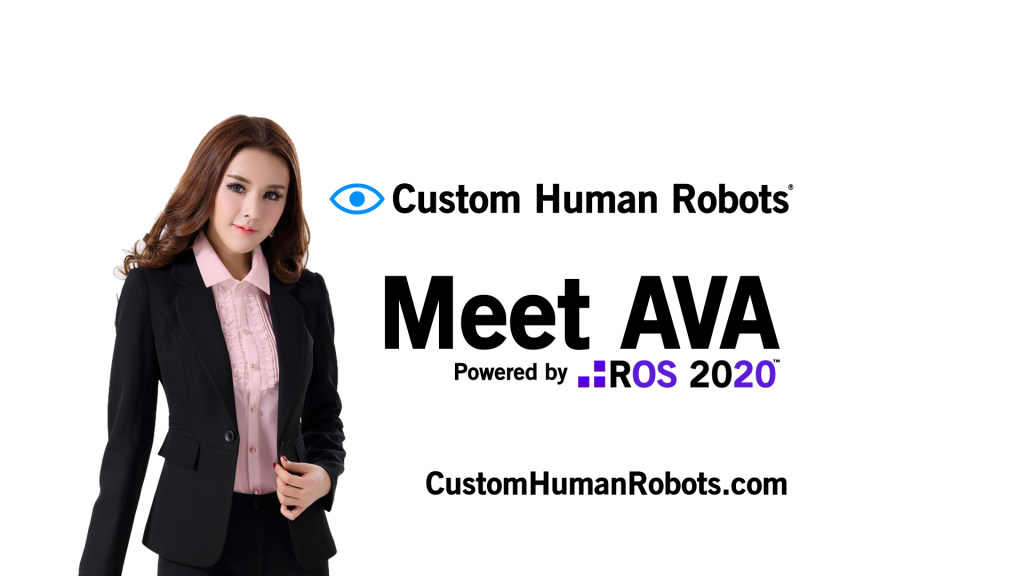 Human-Like Robots You can Control in Virtual Reality with the Robot Operating System™ (ROS 2020™)
As there are times when you may want your human-like robot to execute certain tasks, like moving and doing certain things just like you want them to, you may want to use the Custom Human Robot™ (CHR™) as your avatar.
In order to be able to do so, each customer gets (in addition to the CHR™) a control panel, including CHR VR READY™ software along with a regular computer running ROS 2020™ – similar like something we all know from playing computer games – when you override the artificial intelligence (A.I.) of the Custom Human Robot™ for manual use, you can move, operate and control the human robot the same way you would control your avatar in a regular computer game. Virtually, you become human robot, enabling you to do anything you want as a human-like robot.
Contact Information for Inquiries of New Customers:
In order for us to focus on the research, design, specifications, performance and production process of each Custom Human Robot™ we, at Custom Human Robots, have established a sales office which you can contact at Sales@CustomHumanRobots.com
Please mention the main specifications of the Custom Human Robot™, what kind of tasks you would like it to perform, as well as your available budget and contact details. One of our sales agents will respond as soon as possible.
Appointment only meetings at 95 Third Street, San Francisco, California, 94103, USA for existing customers, delivering, bringing in Custom Human Robots™ for yearly maintenance or scheduled upgrades.
Useful resources: Angel Investors, San Francisco Angel Investors, Los Angeles Angel Investors, Loans in California, Lenders in Los Angeles, Real Estate Investors in Los Angeles, California Investors, USA Angel Investors, Federal Home Loan Bank of San Francisco, Los Angeles Lenders, Angel Money Lenders, Working Capital, Construction Loans, Funding Angel Investors, Garanta, Investors Funding USA, Personal Loans Los Angeles, Geneva Investors, London Group, Small Business Loans San Francisco, Small Business Loans For Women, National ENQ, Human Robots, Venture Capital Firms, Funding Working Capital, New York Angel Investors, New York City Lenders, Miami Florida Real Estate Investors, Miami Lenders, Nevada Las Vegas Investors, Las Vegas Nevada Lenders, Angel Investors Las Vegas Nevada, Internet Name Registration, Angel Investors Arizona, Angel Investors Houston Texas, Angel Investors Atlanta Georgia, Energy Capital Investors, Long Term Loans For Bad Credit No Upfront Fees, Business Startup Loans No Credit Check, Small Business Startup Loans No Credit Check, Technology Angel Investors, Resource Real Estate Diversified Income Fund, Swiss Capital, Export Import Funding, Export Import Loans, Export Funding, Import Funding, Export Loans, Import Loans.